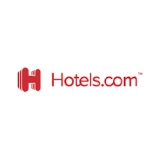 Hotels.com discount code 8%
Get accommodation via Hotels.com and get discount rates and discount codes. Choose from thousands of hotel deals worldwide! Want to get secret hotel prices? Subscribe to the newsletter and be the first to save. And not to forget. You get one free night for every 10 stamps spent.
Discount code 8%
Travel to 31 March 2021
Valid only until 18/10/2020
Coronavirus outbreak help desk
Information for travellers with regards to Covid-19 crisis
Valid at least until 6/8/2020
Lightning deals
Save up to 50% on accommodation
Valid at least until 6/8/2020
Last minutes deals
Buy an accommodation with amazing saves all over the world
Valid at least until 6/8/2020
Secret prices
Sign up via email and get offers that not everybody has access to
Valid at least until 6/8/2020
One night for free
Get one night for free after having spent 10 nights at an accommodation
Valid at least until 6/8/2020
Latest offers
Sign up for latest offers via email
Valid at least until 6/8/2020
Notify me about new discounts
We will reach you about new coupons and sales at Hotels.com!
By subscribing you agree to the terms of privacy policy.
Discounter finds discounts instead of you!
Chrome extension for all discounts on one touch.
**Discount codes and sales are valid for selected markets
How do I redeem a Hotels.com discount code?
First, choose a reservation and switch to payment. In step 3 of the order, on the right hand side, you will find the text "Apply a coupon" that you click. Then enter your discount code in the text box and confirm.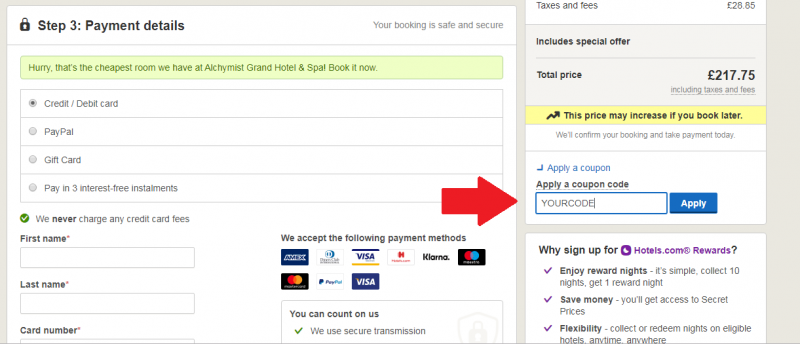 Hotels.com and advantages of the accommodation
Hotels.com has great deals on hotels worldwide. You can choose from thousands of hotel deals. If you want to save, register and get access to secret prices. You can save up to 25% of the original price. In addition, you can get one free night for every collect 10 stamps spent. All you have to do is sleep and enjoy your holidays or combine it with business trips.

10 collected stamps = 1 night for free

Hotels.com offers the best and most widespread internet accommodation in the form of major hotel chains and self-catering accommodation. In addition, Hotels.com offers a customer service center that is available 24/7 and can help with any question.
Hotels.com offers a selection of hotels from over 436,000 hotels in over 200 destinations worldwide. This offer is unbeatable. Hotels.com offers hotel reviews to help you choose the right hotel and location. Take advantage of this unique opportunity to stay with your family or friends in the right hotel.
Hotels.com promodes
Customer must be careful when using hotels.com promocodes. The codes shown on maxicoupon.com are only valid for british version of the eshop, meaning uk.hotels.com, not Czech version cs.hotels.com, and vice versa.
Try for free Hotels.com mobile application
In a minute you can look at Hotels.com, where you can also book your hotel stays.
Hotels.com in Europe
Hotels.com is available in several European countries. For information about Hotels.com vouchers in Czech Republic, continue to
PromoKupon.cz
. Hotels.com operates as well in Slovakia, all the discounts you can find on
PromoKupon.sk
.