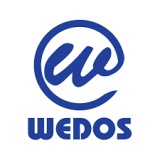 WEDOS discount code 50%
Use latest discount codes on Wedos and save hundreds euros on webhostings, VPS or domains. We update our coupons daily. Wedos is the best-selling Czech webhosting that manages over 180,000 domains. WEDOS is popular thanks to various promotions, which you have here in one place. Redeem coupons from us and don't pay more than you have to.
Discount code 50% on web hosting
Save on WEDOS NoLimit hosting
Valid at least until 6/2/2023
Discount 25% on VPS and web hosting
The highest current VPS discount!
Valid at least until 6/2/2023
Discount code 58% .EU domain
Save on your first .eu payment
Valid at least until 6/2/2023
Free webhosting domain
Learn how to get CZ, SK, EU or PL for free
Valid at least until 6/2/2023
Cloud Disk up to 100 GB free
Take advantage of the free cloud storage offer
Valid at least until 6/2/2023
50% discount on web hosting
Fifty percent discount on web hosting only
Valid at least until 6/2/2023
Notify me about new discounts
We will reach you about new coupons and sales at WEDOS!
By subscribing you agree to the terms of privacy policy.
Discounter finds discounts instead of you!
Chrome extension for all discounts on one touch.
About WEDOS
Founded in 2007, WEDOS has been growing at a rapid rate since then. This is mainly because they have managed to keep prices low, but also the quality of service that will satisfy both small customers and midsize businesses. The price of webhosting starts at units of crowns per month, but you can order a lot of extra features. For example, HTTPS surcharge on SNI technology is only 10 CZK / month. Among the new branch of the company is the portal Pojištění.cz, where you can arrange insurance policies 100% online.

Advantage of discounts on WEDOS
WEDOS NoLimit webhosting for less than 150 CZK / year for the first year.

The discount also applies to extra services such as unlimited aliases or a 5-minute CRON.

When ordering higher VPS variants, you can save sums of several thousand crowns.

How to redeem a discount coupon?
To redeem your voucher, just go to your order when making a purchase. On the "Domain Order" page, the "Discount Coupon" text box is at the bottom. Here you enter your discount coupon. Then just click on "Use discount coupon" and the discount is applied.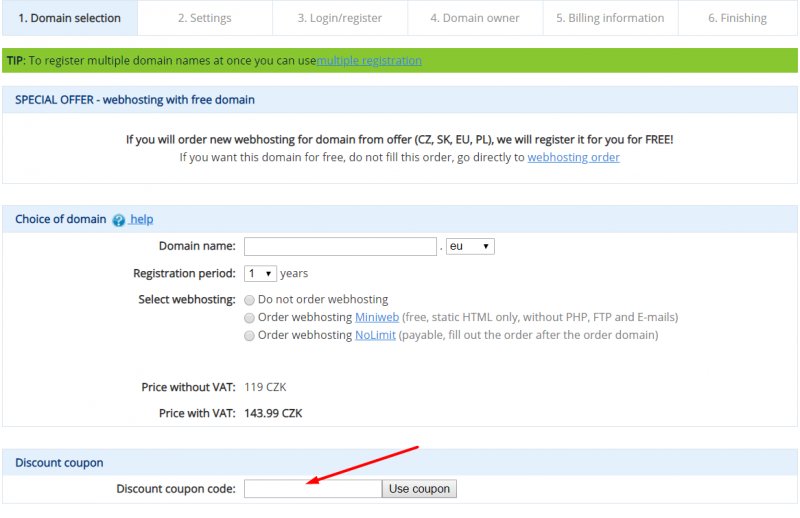 Differences between coupons
Different discount codes for Wedos have different options. Some apply only to web hosting, others only to VPS and some apply to both. Other discount codes apply to domains.
Some coupons require a Wedos user account, otherwise the discount will not work.
Discounts on VPS
Unless the VPS type is specified for the discount code, the coupon is usually valid only for VPS SSD. VPS ON coupons don't come out as often.
Some discounts apply to both web hosting and VPS. There may be a different discount for web hosting and VPS for each coupon.
WEDOS in Europe
WEDOS is available in several European countries. For information about WEDOS vouchers in Czech Republic, continue to
PromoKupon.cz
. WEDOS operates as well in Slovakia, all the discounts you can find on
PromoKupon.sk
.