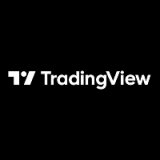 TradingView up to $120 off + month free

We guarantee all the discounts. Reward for everybody, who finds out invalid discount.
Get a discount on your TradingView subscription and, as a bonus, one month of one of the premium versions for free. TradingView is among the most widely used platforms used for technical analysis. It contains thousands of different instruments on which you can use many sophisticated analysis tools. In addition, the links below will allow you to arrange a subscription with a discount thanks to an annual subscription, as well as a free trial of premium versions for a month.
Notify me about new discounts
We will reach you about new coupons and sales at TradingView!
By subscribing you agree to the terms of privacy policy.
Do you know about a new discount? Let us know!
How to get a discount and a free month of Premium on TradingView?
You can get up to $120 off your subscription simply by clicking the link above and choosing an annual subscription. This includes a discount, which in the end works out to practically two months of free use.
You can also now try these premium versions of TradingView for free for a month, so you know what you're getting into ahead of time.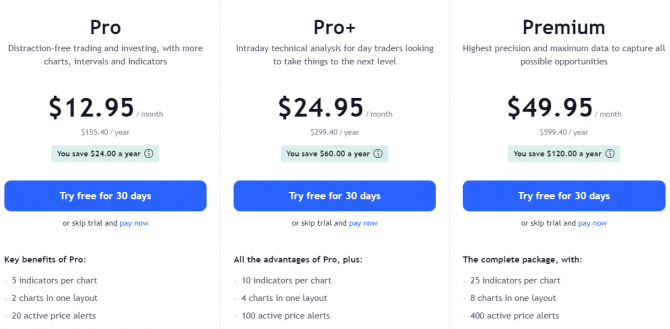 Why should you use TradingView?
Advanced Charting: TradingView provides an extensive array of advanced charting tools and indicators. Traders can access various chart types, timeframes, and drawing tools to perform technical analysis efficiently. The platform offers features like trend lines, Fibonacci retracements, moving averages, Bollinger Bands, and many more.
Customization Options: TradingView allows users to customize charts according to their preferences. Traders can personalize the appearance of charts, choose from different color schemes, and adjust settings to match their trading style. This flexibility enables users to create a personalized trading environment.
Social Networking and Community: TradingView is known for its active and vibrant community of traders and investors. Users can share their ideas, analysis, and trading strategies through the platform. This social aspect provides an opportunity for traders to learn from others, collaborate, and get feedback on their trading ideas.
Multi-Asset Support: TradingView covers a wide range of financial markets, including stocks, forex, cryptocurrencies, commodities, and indices. Traders can access real-time data and charts for multiple assets within a single platform, making it convenient for those trading across different markets.
Real-Time Data and News: TradingView offers real-time market data and news feeds from various sources. Traders can stay updated with the latest price movements, economic events, and news releases that impact the financial markets. This real-time information allows for informed decision-making and timely execution of trades.
Integration with Brokerages: TradingView integrates with several popular brokerages, enabling traders to execute trades directly from the platform. This integration streamlines the trading process, eliminating the need to switch between multiple applications and websites.
Backtesting and Strategy Development: TradingView provides backtesting capabilities that allow users to test their trading strategies on historical data. Traders can evaluate the performance of their strategies, identify strengths and weaknesses, and make improvements accordingly. Additionally, TradingView supports the development of custom indicators and trading algorithms using its Pine Script programming language.
Mobile and Web Accessibility: TradingView is available as a web-based platform and offers mobile applications for iOS and Android devices. This accessibility allows traders to monitor and analyze the markets, as well as manage their trades, from anywhere at any time.
TradingView in Europe
TradingView is available in several European countries. For information about TradingView vouchers in Czech Republic, continue to
PromoKupon.cz
. TradingView operates as well in Slovakia, all the discounts you can find on
PromoKupon.sk
.