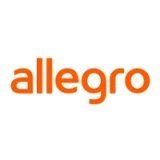 Allegro.cz discounts and coupons

We guarantee all the discounts. Reward for everybody, who finds out invalid discount.
Discover promotions and discount codes for Allegro.cz, a giant e-shop with a product range bigger than Mall.cz. Shop here for appliances, fashion, homeware, sports equipment and many other products at great prices. We keep track of all their promotions, you just have to choose. Allegro is a new platform that aggregates offers from many merchants from the Czech Republic and abroad, so you can buy goods of all kinds at the best prices.
To get a coupon for 200 CZK you need to register via the first link below. You can then redeem it for any purchase over CZK 300. Also take advantage of the Allegro Smart offers where you will get 5x free delivery.
New deals and discount coupons
Notify me about new discounts
We will reach you about new coupons and sales at Allegro.cz!
By subscribing you agree to the terms of privacy policy.
Do you know about a new discount? Let us know!
Why shop at Allegro?
Allegro offers a huge selection of goods from a variety of categories including electronics, fashion, home appliances, cosmetics, books, toys and much more. Users have the opportunity to choose from products from local retailers as well as large e-shops and merchants. The platform is known for its wide range of products, competitive prices and user-friendly environment.
One of the most interesting features of Allegro is the auction option. Here, users can bid on products and compete for the lowest price. Auctions on Allegro are popular among both buyers and sellers because they provide a fun and interactive form of shopping.
Allegro also provides useful services to ensure a convenient and reliable shopping experience. These include, for example, the possibility of online payment, home delivery and the possibility of returning goods in case of dissatisfaction.
The platform has earned the trust of users thanks to its emphasis on security and privacy. Allegro uses modern technology and security protocols to ensure the security of transactions and protect the privacy of its users.
Is Allegro Smart worth it?
You may have noticed on the Allegro e-shop that you can activate the Smart service, they have advertising for it everywhere. What does it mean and is it even worth it? With an Allegro Smart subscription, you get free shipping in exchange for a monthly subscription. So it pays off for anyone who orders from Allegro regularly, but you only need to subscribe once or twice a month to recoup the cost.
Is there a catch? We've tested it on dozens of orders and it works really reliably. The only downside is that not all retailers support the Smart service. But most of them do. Just check "Allegro Smart!" in the filter. and you'll only see products you can use the service on.
What are the prices and conditions of Allegro Smart? It costs 59 Kč per month and free delivery applies from Smart-supporting retailers for orders over 299 Kč per month for free delivery to outlets or for orders over 499 Kč per month for free courier home delivery.
Plus, you can save even more if you opt for an annual subscription for £299. Then your monthly subscription costs will only cost you CZK 25 per month and you can have your goods delivered for free for a whole year.

What is the difference between Mall and Allegro?
Mall.cz was and still is one of the leading e-shops on the Czech market. After the arrival of Allegro, there are ads everywhere on Mall regarding the new and better Mall, which is Allegro. However, it is not entirely true that Allegro is going to replace Mall and that this will put an end to this e-shop.
Allegro aggregates offers from many merchants, including Mall.cz, but also many other e-shops. So it has a wider offer than on Mall itself, but if you order something from Mall through Allegro, for example, the order will still be processed by the Czech Mall representative. In addition, thanks to current marketing promotions, you can often order goods cheaper on Allegro.cz than on Mall.cz itself.
How is all this possible? The Mall.cz e-shop has been operating independently since 2000, when it was founded, and it has evolved to its present form. In 2022, the e-shop was bought by the Polish Allegro Group, which became its parent company. Due to the success of Allegro.pl in Poland, there was a strong desire to expand the platform abroad. By owning the e-shop Mall gained a strong channel to promote the expansion of the Allegro platform. The same situation is with the CZC e-shop, which is now also part of the Allegro Group.
Allegro.cz in Europe
Allegro.cz is available in several European countries. For information about Allegro.cz vouchers in Czech Republic, continue to
PromoKupon.cz
. Allegro.cz operates as well in Slovakia, all the discounts you can find on
PromoKupon.sk
.